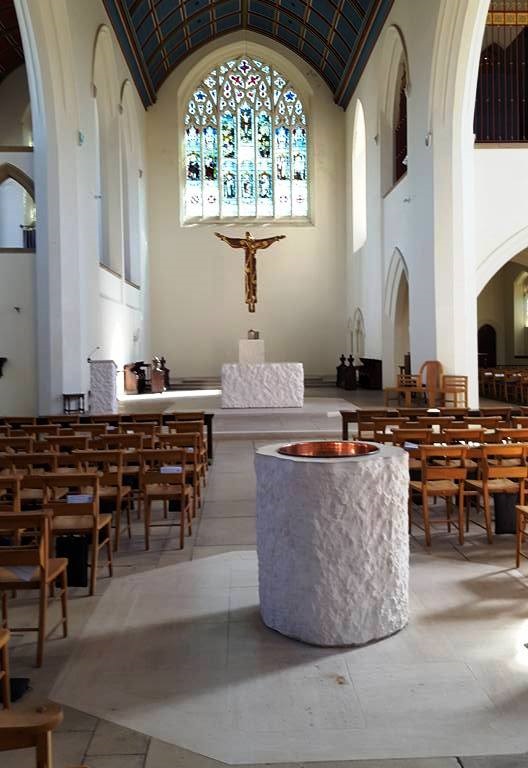 ---
Elliott Brothetton, of eB Sculpture and Stonemasonry was commissioned to design and create four new stone elements for the Holy Spirit Church, Southsea. The church shared with him their wish to have a new natural looking stone altar, tabernacle stand, ambo and font. Elliott created this natural look using several techniques. Starting from a square or rectangular block, each side was cut and then hand-pitched. This process was repeated several times to achieve a random natural look. The surfaces were then hand-carved, chiselled and needled to achieve a softened, consistent finish. All top surfaces were semi-polished and sealed. Each element has a rebate at the base, providing a shadow gap. This acts to lighten the look of the blocks, especially the largest ones.

Elliott chose a Portuguese limestone called Moca Crème for these pieces. Moca Crème is a sedimentary rock, formed in layers giving the stone unique and parallel veinage, It is a hard and durable limestone; hard enough to achieve a deep polish due to the fossil content, though its colouring is soft enough to have certain warmth and be very tactile. Moca Crème is one of Elliott's favourite stones to carve, due to its durability, reliability and interesting look, and this was by far the largest delivery of the stone he has received from Portugal.

The four new elements were designed to be simple with clean lines, in keeping with the church's contemporary architecture. Each piece features a hand carved logo which Elliott created for the Holy Spirit Church. Inspiration for the logo came from the arches within the church and incorporates the fire of the Holy Spirit. This links the four elements together and they sit well within their surroundings, especially given that Elliott also sourced the church's new limestone floor tiles from Portugal. In addition he restored a number of stone plaques within the church.

Each piece was created at Elliott's workshop in Romney Marsh in Kent. Due to the size of the altar weighing in at 11 tons, this piece had to be worked on outside where the block had been craned in position, so on dry days only! It has a honed top incorporating hand carved crosses in the centre and corners. The font incorporates a spun copper bowl, designed as such to allow it to removed and cleaned.

The installation of the four pieces, especially when it came to the positioning of the large altar! Having a large hole in the side of the church where the new entrance is made this possible. Elliott had the expert help of a specialist installation company, CIS, to install the pieces.

This project has been one of the largest and most exciting of Elliott's career so far. It has been especially important to him given that he has relations in Portsmouth.

Elliott has worked as a stonemason and sculptor for over 10 years. He specialises in all areas of stonework, from commissioned sculpture, to large restoration projects. He has recently been commissioned to design and create a new 16 foot high war memorial in Sittingbourne, Kent, replacing the one damaged in the storm of 1987.
---
2010